For those who do not have easy access to hillbillies chickens, corn cobs or wood stoves or for those who simply want a warm food for family reunions on cold days, follow this recipe for "Urban Galinhada" very fast and prepared with ingredients you probably You will not even need to go to the supermarket to prepare …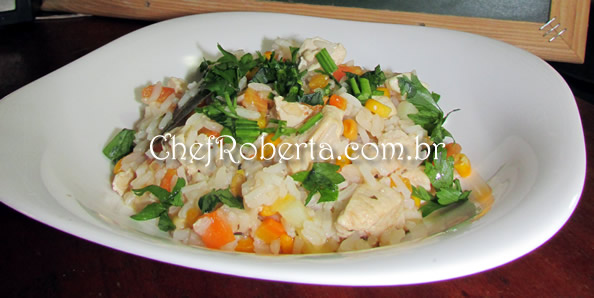 The "galinhada" is one of the foods that remind me of my happy childhood … The high and unforgettable laughter of my grandfather and my grandmother cooking a delicious country chicken surrounded the farm cousins, games and endless conversations with my family. All this is alive in my memory only to smell.
Ingredients:
300g breast fillet
2 corn cobs or corn 1 Can
1 medium carrot
300g of rice
2 bay leaves
2 tablespoons olive oil
1 margarine spoon
Oregano
Garlic
Onion
Parsley
Salt
Method of preparation:
Refoge garlic and onion in olive oil, place the chicken and let grilling. Add chopped carrots into cubes and corn, let it cook for another 3 minutes. Place the rice, bay leaves, a pinch of oregano and salt to taste, let reforgar for another 3 minutes, put 600 ml of water (can substitute water for homemade chicken stock, that "water" cooked breast chicken, it gets even hotter).
Leave over high heat until it boils, then put on low heat. No need to cover, just note that the rice grains will begin to swell and lose milky white appearance. In about six minutes, try and see if it's already cooked "al dente", as it is cooking too can get "soggy". Ideally, still has juice between the grains, not need to add water.
Place margarine, turn off the heat and cover, let stand for 5 minutes. Open and stir, sprinkle chopped parsley on top. Serve very warm and juicy.
This recipe yields 6 servings. Good appetite!