I love spaghetti and this is certainly my "darling", easy, convenient and delicious. The Vegan Spaghetti used is made with semolina therefore does not contain eggs in the dough or any other animal trait that would be acceptable in some vegetarian recipes.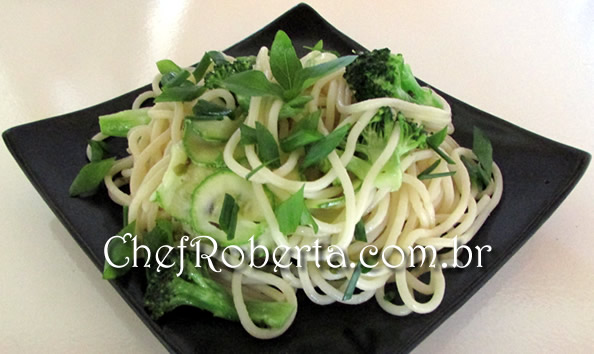 In this recipe, I chose as their main element Broccoli, which is rich in minerals: calcium, potassium, iron, zinc, sodium and also contains several vitamins and dietary fiber. It has very few calories and anticancer properties. Surveys report that daily consumption of broccoli prevents heart disease, prevents ulcers and gastritis.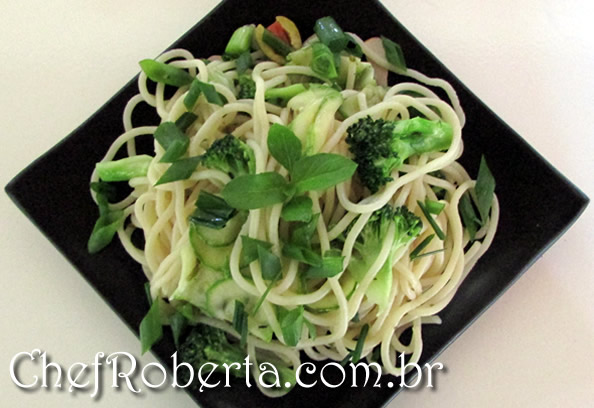 Ingredients:
300g spaghetti semolina
300g Broccoli Ninja
1 average Italian Zucchini
10 pitted olives
3 tablespoons olive oil
3 cloves garlic
oil
basil
oregano
chive
salt
Method of preparation:
Cook the spaghetti in his own way. I like the tooth and place a tablespoon of salt and two of oil in the water, I believe it helps to become more tasty.
In a large frying pan (or pan), saute minced garlic in olive oil with a 3 sprigs of basil, place the broccoli and zucchini, let grill for about 5 minutes, stirring constantly. Add the olives cut in half, oregano and salt to taste, and finally the pasta, stir well so that all the ingredients to mix.
Create a beautiful presentation, finish with chives and basil.
This recipe yields 4 servings. Good appetite!