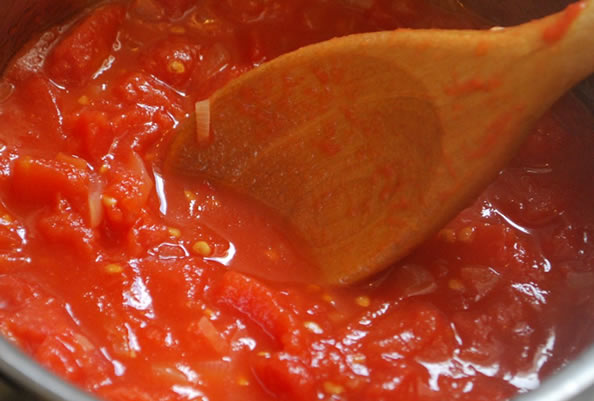 Tomatoes are a great source of antioxidants and phytonutrients, both associated in reducing the risk of cancer. One study showed that four servings of tomatoes a week for men helps to reduce the risk of prostate cancer by 40% due to an antioxidant called lycopene which also helps in preventing cancer in the pancreas.
There are many other benefits, such as being rich in vitamin A, vitamin C, vitamin E and potassium, to do good for the heart, diabetes, eyes and bone health, have anti-inflammatory agents and help you lose weight.
I am not against the use sauce or tomato paste processed ready, but without a doubt, the natural is much healthier, especially for not having preservatives and sodium excess.
This sauce is simple and is the basis for many dishes. Makes a forcinha and try it!
Ingredients:
4 ripe Italian tomatoes
2 tablespoons (soup) of oil
1 tbsp (tablespoons) butter
½ peeled onion
1 ½ carrot or small carrots
1 pinch of black pepper freshly ground
salt
Method of preparation:
Wash the tomatoes and bring a medium saucepan of water over high heat. Meanwhile, cut an 'x' at the base of each tomato and prepare a bowl with water and ice. Once the water boils, put the tomatoes. When the skin begins to loosen, remove with a slotted spoon and transfer tomatoes to the bowl with ice – thermal shock causes the skin pops. From the cutting 'x' pull and discard the skin.
If you like a more lisinho sauce, beat the tomatoes in a blender, but if you prefer a more rustic sauce with bits, just chop the tomatoes and put to fry in 3 tablespoons olive oil and the chopped onion.
Place the salt, carrot hit with the cooking water in a blender and pepper, cook for 6 minutes. Turn off, put the butter (can be Ghee or olive oil), and stir until melted well, it makes the most velvety sauce.
To make a sauce Bolognese or chicken etc, the process is similar. Just sauté the meat before and the rest is the same.
Ah! Remember, basil is key to a fragrant and delicious sauce, did not put in the recipe, because many do not like. But if you like, do not hesitate, put the will.
This recipe serves 3 noodle portions to suck. Good appetite!
You want me to do this recipe in your home? Call (12) 996 211 755
Written matter for the newspaper "A Cidade Ubatuba"