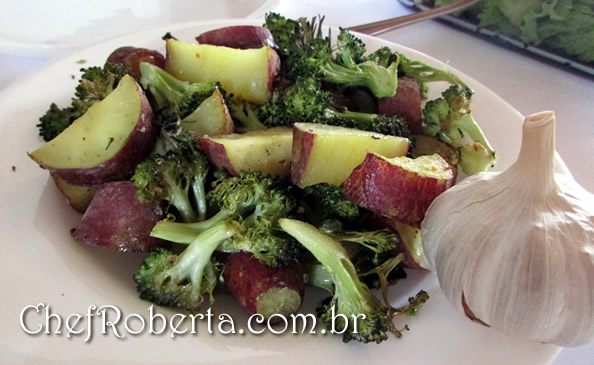 #sinceitisfashionable 😉
 The sweet potato is high, especially for those who practice physical activities as it is a low glycemic complex carbohydrate, which means that its absorption is slower, releasing glucose into the bloodstream slowly and without much stimulating hormone called insulin (responsible for increasing hunger and by the accumulation of fat). High in fiber (helps promote a healthy digestive system), it is also a source of iron, vitamin C and potassium, besides presenting high content of vitamin E, contains vitamin A and C (antioxidant and anti-inflammatory).
Broccoli, one of the foods that I like, is a rich source of vitamin C and dietary fiber. It is also an excellent source of beta-carotene and protein addition is rich in various minerals such as Magnesium, Calcium, Iron and Zinc. It has few calories, only 35 per 100 gram portion thereof.
A full meal, especially with roasted garlic, which is excellent for digestion eliminating waste from the body. Great combination, is not it? So let's get down to business …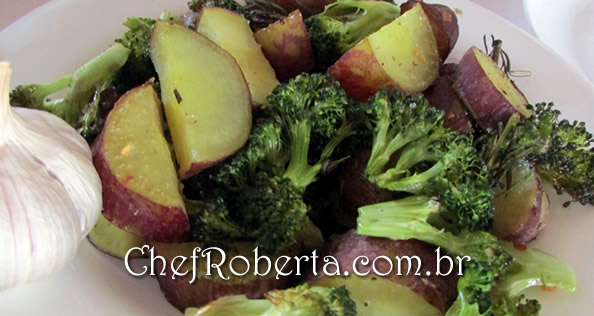 Ingredients:
2 medium sweet potatoes
200 grams of broccoli ninja
1 head of garlic
1 sprig of rosemary
The white black pepper
Oregano
Oil
Salt
Method of preparation:
Wash the sweet potatoes under running water, they will be made with the bark. Cut into rings with a width of two fingers and then in half to get a half-moon shape. Place in a pan with water and simmer after boil for 6 minutes. Put the broccoli sprigs in a colander and drain the water from the potatoes on them, so already scalding broccoli, which helps in time to bake them.
In a baking dish already greased with oil, arrange the potatoes and properly dried broccoli, season with oregano, salt, rosemary and white pepper. Wrap garlic head in aluminum foil and place in the pan as well. Place in a preheated oven at 230 ° for 40 minutes.
The time and the need to turn the potatoes, varies according to the power of each oven, keep an eye.
When finished, remove the garlic aluminum. Separate the teeth and tighten one by one in a little pot, it will be well squishy like a clay. Season with olive oil and salt, and have a great pate to accompany your meal.
This recipe makes 2 servings. Good appetite!
You want me to do this recipe in your home? Call +55 (12) 996 211 755