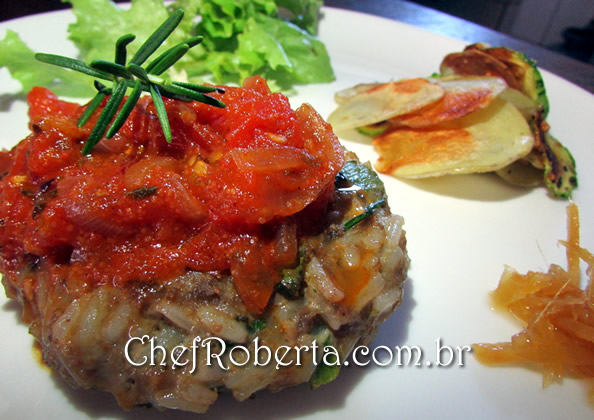 The rice cake is a classic! Who ever eaten? I love it, but as I like not much fried food was years without eating, to discover this wonderful grilled.
I do not like throwing food away, not good for the pocket or to consciousness, so keep any rice dregs in the freezer until you have a good amount and I as a main dish. The traditional is great, but try mixing grated vegetables or meat, is simply delicious.
For this recipe I used ground beef and homemade tomato sauce (recipe here) cover, to keep "face" burger. As a follow up did potatoes and zucchini chips (recipe here). Sweet Ginger was a bonus, any day I put the recipe 😉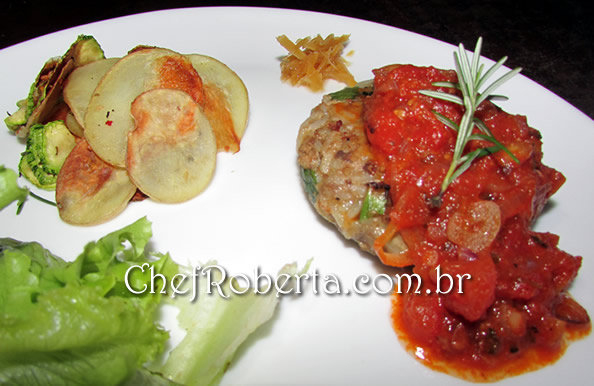 Ingredients:
2 cups of cooked rice
300g raw ground beef
2 eggs
1 clove garlic
1 onion
oregano
Chives and Parsley
salt
Method of preparation:
Caramelize the onions, cut into half moon in a skillet over low heat. Place all ingredients in a bowl, including caramelized onions and stir with a spoon until well blended. Will not get a "bulk" why rice is already cooked, but is firm enough to be able to make the burgers with your hands. Grilling on a Teflon frying pan with a little olive oil, let it brown well and turn to brown the other side. Serve with the sauce on top.
With vegetables or pure rice no longer gives to shape by hand, then with a spoon put a good amount in the pan and the back of the spoon, slowly loved to flatten to the desired height.
This recipe yields 6 units. Good appetite!
You want me to do this recipe in your home? Call +55 (12) 996 211 755