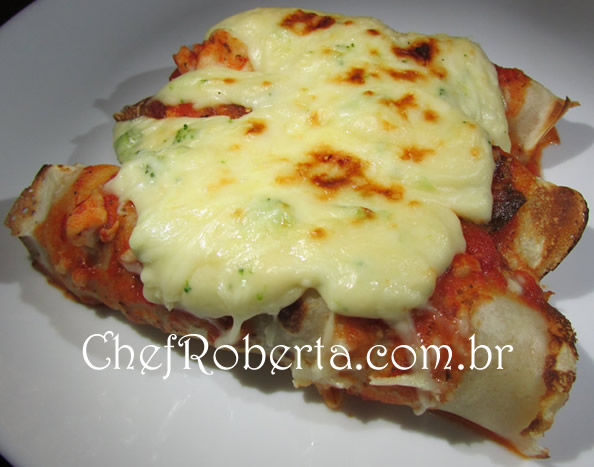 Are pancakes in the Americas or in France Crepe, sweet or savory, these delicacies have taken over the world, winning many different preparation methods. What really matters is that they are well made.
Previously did not give much value to them, I believe that the texture bothered me a little. So I decided to do something that he might become pleasant to my taste. I tried again and again change the dough recipe, until one day I took the egg and it worked, it was like I wanted. Lightweight, thin and tasty.
Just to clarify, I have no problem with the traditional, but when I make at home rather no eggs.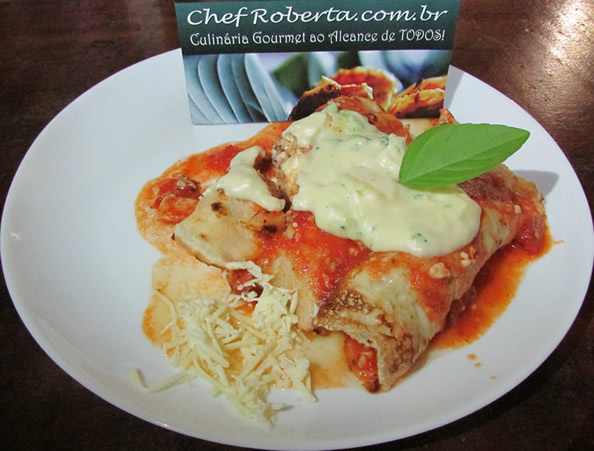 Ingredients:
Pancakes:
1 egg (optional)
1 cup all-purpose flour (or oats)
1 cup of milk
1 pinch of salt
1 tablespoon (soup) olive oil
Filling:
300g chicken fillet
6 Italian tomatoes
2 tablespoons (soup) olive oil
2 cloves garlic
2 bay leaves
Basil
Chive
Oregano
Salt to taste
White sauce (optional):
2 tablespoons (dessert) flour
1 glass of milk
1 tablespoon (soup) butter
50gr Broccoli
2 tablespoons (soup) grated Parmesan cheese
Salt to taste
Method of preparation:
Place all dough ingredients in blender and blend until it is homogenous. Grease a skillet with olive oil with teflon, let heat and place the dough slowly with a ladle. A circular motion with the skillet to help the dough to spread and become very thin. Fry well and turn with a spatula, repeat this process until you finish the dough. The amounts of disks to the pancake will vary according to the size of the pan. I used a small frying pan of 10 cm.
For the filling, I wanted to leave a little of the traditional shredded chicken and ground beef. I cut the breast fillets into very small cubes. Braise them in garlic oil, fish sticks until. Add tomatoes and seasonings to make a natural tomato sauce (recipe here).
Tip: put a pinch of sugar in tomato sauce to help break the acidity.
The white sauce, as I said, is optional. But I believe it is an excellent combination. In a saucepan, place the butter and flour, let it melt and form a sort of cream. Gradually add the milk gradually, stirring constantly to avoid lumps. Place the remaining ingredients, stirring constantly for about 5 minutes.
Mount the pancakes with chicken, red sauce leftovers, play over and then put the white sauce. Or, put mozzarella cheese and light browning in the oven.
This recipe yields 5 servings. Good appetite!
You want me to do this recipe in your home? Call +55 (12) 996 211 755